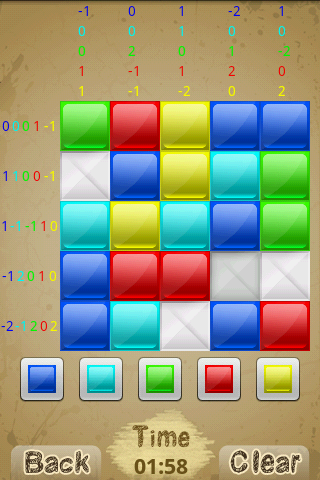 Cudoku

Cudoku is a logic board puzzle game.
Cudoku board is divided into squares. You are given constraints on the coloring scheme of each row and column, the player needs to satisfy those constraints by picking a color for every cell.
You can set the color of the current cell by picking one from the colors bar under the game board or by consecutively tapping the cell.
For each row and column there is a list of numbers, one number for each color, any positive number for a specific color, indicates that this row or column is missing that number of cells carrying this color, similarly negative numbers indicates the need for removal of cells carrying this color, the puzzle is solved when all row and column constraints are satisfied and having zeros.
You can choose the board size and the number of colors before playing.
Privacy Policy
Cudoku Game doesn't collect, save or share user data. Users are not requested to enter any personal information while using the game. Also, users enjoy playing the game anonymously, i.e. no user registration/identification is needed to play the game.
Cudoku is available for Android and iPhone